Living in 'JESUS-JOY
Mood:
happy
Now Playing: Umma23
Topic: Matthew 16:24-26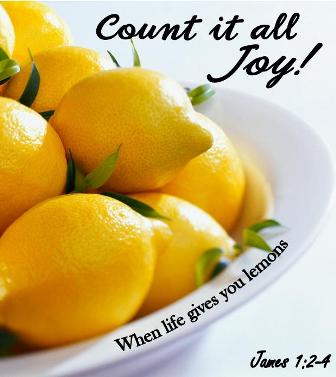 LIVING IN 'JESUS-JOY' EVEN IN TROUBLES
S.
Matthew

16:
24-26 (MSG)
Then Jesus went to work on his disciples. "Anyone who intends to come with me has to let me lead. You're not in the driver's seat; I am. Don't run from suffering; embrace it. Follow me and I'll show you how. Self-help is no help at all. Self-sacrifice is the way, my way, to finding yourself, your true self.
O. LIVING IN JESUS JOY even in TROUBLES. ACTUALLY EMBRACING TROUBLES! In letting Jesus lead us, not 'doing it ourselves', we find who we truly are deep inside during our troubles. Troubles and trials are 'teaching tools' that get us positioned in a place behind Jesus. When we give these 'teaching tools of troubles' to Jesus, allowing our curiosity and sense of adventure to be stirred up, we can go through the bumps of life with more joy, learning at the end who we are inside when we let Jesus take the lead.
A. VERY seldom have I gotten through life's bumps in joy. But I WANT to live in joy even through trials. How? I can let Jesus lead, knowing He has a reason that I am going through this trial. It is a way of teaching me who I really am inside; shining light on the dark places inside so I can see them and give them to Jesus. Going through tests is God's way of teaching me that all life can be lived in joy EVEN EMBRACING TROUBLES IN JOY; looking for the adventure in trials and knowing it will show me a new and stronger side of myself when Jesus leads me. The trials are 'teaching tools' to teach me how to live in joy because I KNOW who has the reigns!
P. When troubles come, Holy Spirit, I ask that You would give me the determination to live in "Jesus Joy"...no matter what. That I would quickly see Him leading me to the other side, knowing that He will be shining the way before me, teaching me about what needs to 'go' and what can be strengthened inside of me.