Practicing Peace
Now Playing: Umma23
Topic: Philippians 4:7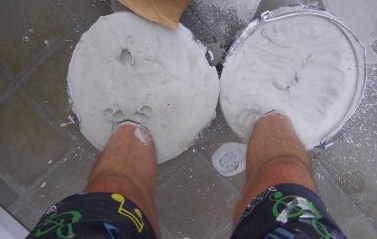 S.
Philippians 4:7 (AMP) And God's peace [shall be yours, that tranquil state of a soul assured of its salvation through Christ, and so fearing nothing from God and being content with its earthly lot of whatever sort that is, that peace] which transcends all understanding shall garrison and mount guard over your hearts and minds in Christ Jesus.
O.
Believers are to constantly seek after the fixed, instrumental position of the state of tranquility/harmony of our soul/mind. T
This kind of tranquility/harmony that is at one/joined with Jesus, assures us that we are rescued by Him.
This kind or tranquility/harmony insures us against fearing our earthly lot, causing us to be content in all circumstances.
This kind of tranquiltiy/harmony excels our intellect.
This kind of tranquility/harmony guards our soul and mind by keeping us WATCHFUL and alert. We set our mind to KEEP the set position of 'mindful-peace' BEFORE we come into any experiences of life, good or bad.
This kind of tranquility/harmony is usable by God, showing evidence that God rules in our life; Piece is our PROOF and our TESTIMONY!
A.
Peace in my life is something I have to practice at. From small circumstances to large problems, I have to set my mind on knowing that I am FREE from FEAR; setting my mind in knowing that I AM content in all circumstances because of this FREEDOM! This keeps me prepared, WATCHFUL, to what could attack my inner peace, the opposite of God's desire for me. When I set my mind on being WATCHFUL to what could steal my peace, then the 'triggers' that set off the warning signs of fear or discontent, are made known to me. At those times, I need to practice cementing my feet in the peace of God's Word and His Spirit, not being moved. This CEMENT takes time to set, and it comes from practicing it, over and over, no matter what experiences come into my life.
Ephesians 6:14,15: And having shod your feet in preparation [to face the enemy with the firm-footed stability, the promptness, and the readiness produced by the good news] of the Gospel of peace.
P.
Cement my feet in Your peace, Jesus! Help me focus on YOU in all adverse circumstances, big or small. Keep me always watchful for Your peace, and how to STAY there!