My Personal 'BEAM OF LIGHT'
Mood:
bright
Now Playing: Umma23
Topic: Matthew 17:1,2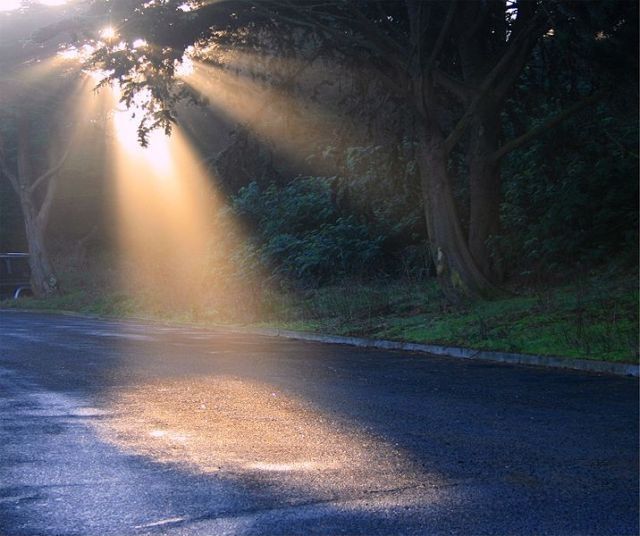 S.
Matthew 17:1,2 (NKJ)
Now after six days Jesus took Peter, James, and John his brother, led them up on a high mountain by themselves; and He was transfigured before them. His face shone like the sun, and His clothes became as white as the light.
Now after six (# of man; man coming short of spiritual perfection) days (time) Jesus (Salvation) took Peter (a chip off a larger rock), James (a surplanter; one who removes or displaces), and John (Jehovah has graciously given) his brother (likeness, character, relationship), led them up on a high ( to set the mind on; to seek higher things) mountain (to keep the mind in suspense/ suspended) by themselves (down from themselves); and He was transfigured (metamorphose)before them. His face (countenance) shone (radiate brilliance) like the sun (Light; a prefered sun ray of light), and His clothes (protection, mantle) became as white (pure) as the light.(the power of understanding moral and spiritual truth; Truth and its knowledge, together with spiritual purity)
O.
Now when the time of mans spiritual imperfection came to an end, Salvation, a part of God, came to displace/move God's given grace to His Likeness (Jesus) so that man's mind would be set and suspended on the higher things of God and not on the lower things of man. Man would set his mind on seeking God. God was then transformed before man. God would become a perfered 'Ray of Light' ( a personal "Beam of Light" for each individual person; a personalized beam from the sun/Son) Salvation (Jesus) would become man's protection with the power of understanding moral and spiritual truth; pure spiritual truth and its knowledge.
God had sent a 'tangable/touchable' Way (Jesus) to know God and His SpiritualTruth.
A.
God has sent to me a personal Beam of Light; the Light of spiritual understanding. He has sent me the Light that will help only me in my personal life. Jesus is my Light. And through Jesus, I have a personal and intimate, one on One relationship with God...unlike anyone else in the world. God picked this exact time and place for the two of us. He knows EXACTLY what I need, personally, to become closer to Him in my spiritual life. He has personalized His 'Beam of Light' just for me. With this 'Beam of Light' I receive hunger for more Light, personal spiritual wisdom and knowledge, and EXACTLY what my own spirit and soul needs from God; personal Spirit and Truth!
P.
Thank You, Father, that You send each of us exactly what we need to know You. Thank You, Jesus, for being my revelational Beam of Light, personalized just for OUR relationship! You amaze me, Father, because You thought of everything I need (You know me SO well)....and then provided just THAT for us to be together, intimately. I praise You, Father! I sing Your praises! You are AMAZING!