I CHOOSE TO CALL HIM 'ABBA'; Time to PLAY & PRAY!
Mood:
happy
Now Playing: Umma23
Topic: Galations 4:6, 7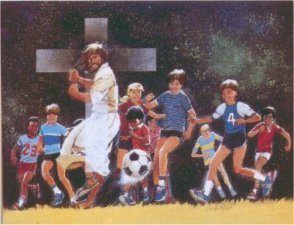 I CHOOSE TO CALL HIM 'ABBA'; TIME TO PLAY & PRAY
S. Galations 4:6,7
And because you [really] are [His] sons (kinship/heirs), God has sent the [Holy] Spirit of His Son into our hearts (soul, mind, thoughts, will, character, seat of intelligence, emotions, desires, passions, purposes, affections, sensibilities) crying (screaming), Abba (Father) (to be familiar with, to know)! Father!
Therefore (AS A RESULT), you are no longer a slave (bond servant) but a son; and if a son, then [it follows that you are] an heir by the aid of God, through Christ.
O. ABBA: It is a term expressing warm affection and filial (Pertaining to a son or daughter; becoming to or due from a child in relation to the parents). confidence. (Easton)
"Abba" was a title not to be used by slaves to a master, nor Imma to a mistress, only by children. (see Isaiah 8:4)
FATHER means: "The originator and transmitter of anything"; "the author of a family or society of persons animated by the same spirit as himself; one who has infused his own spirit into others, who acutuates and governs their minds." (Thayer)
When the Bible puts 'ABBA' together with 'FATHER' it means:
"THE RELATIONSHIP OF A CHILD TO HIS FATHER, THE ORIGINATOR AND TRANSMITTER OF ANYTHING, INCLUDING HIS SAME SPIRIT"
A. Because of Jesus, and that I have asked Him to be the Lord of my life, I have the same Father God as is His Father God. I am a child of the same Father as Jesus. This means I have the same Spirit as God holds (Holy Spirit), and hold the same inheritance and promises that Jesus holds.
Because God is my Father, I can have a 'child-like' relationship with Him; asking Him questions for knowledge and understanding; asking Him for provision; confiding in Him; even playing with Him.
Relationship with God is up to me. I can choose a close child-like relationship with Him and call Him 'ABBA' or stay I can choose an impersonal relationship with Him and just call Him 'FATHER'! I CHOOSE TO CALL HIM 'ABBA'!
P. Thank You, Jesus, for showing me the way to OUR ABBA! Lead me closer and closer to our ABBA, Jesus, because we, together, have His same heart, mind, and SPIRIT! Show me how to PLAY with our Abba, so as to become closer to Him in relationship; and then how to PRAY with Him, to have conversations with Him, in order that we would know each others thoughts and opinions!