A Zesty, Harmonic People Full of Salty Experiences
Now Playing: Umma23
Topic: Mark 9:50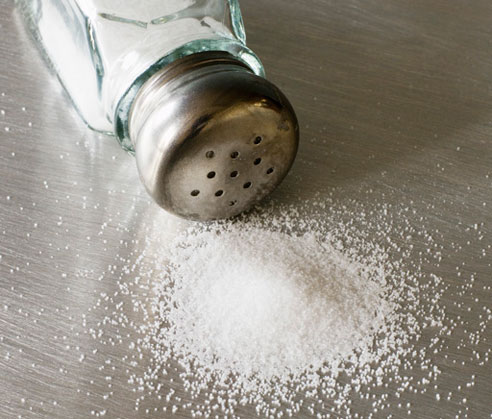 S.
Mark 9:50 (AMP) Salt is good (beneficial), but if salt has lost its saltiness how will you restore (the saltiness to) it? Have salt within yourselves and be at peace and live in harmony with one another.
SALT=(dict.=an ELEMENT that gives liveliness or pungency; also, to cure or preserve
SALTINESS=(dict.=flavor, saline, piquant, interest, charm, sharpness, liveliness, wittiness, coarsness; also used to spread on to melt ice)
O.
Being full of life/the Word and being excited about it, is a benefit for us, personally. But if we loose that excitement, that zest for the Word and for Jesus, who can put it back into us? We are to take the refinement of life that comes through trials and turn it into joy....a ZEST, an EXCITEMENT! That's the SALT of life! Then we are to live in harmony with each other...a salt shaker full of ZESTY salt crystals, shaken up and spilling out!
I am only one grain of salt. I can not season 'food/life' completely by myself. I need OTHERS...so we can season 'food/life' with enough 'seasoning' so that it can be 'tasted' by others. Each of us, as one single grain of salt, can fill up a salt shaker and shake out the 'seasoning' that is needed to spice up the lives of others. But it does take MANY grains of salt to do that!
A.
I am to have this 'element of saltiness', the ZEST for LIFE IN JESUS, in my mind, heart and soul. And with this 'zestiness and liveliness' in me, I am to be in one accord with OTHER ZESTY and LIVELY pieces of SALTINESS! A WHOLE salt-shaker full of ZESTY-Jesus-loving-people, full of the excitment that God has given all of us, personally! God's Word is exciting...it needs to be lived out of me that way. I need to show and live out in full view of everyone, the zestiness, liveliness and excitement of God's Word that is IN me! Then I need to keep it shaken up INSIDE of me...so that ZEST can spill OUTSIDE! I need to stand with other 'zesty-salt-crystals' in order to be effective in this way.
P.
Father, Make me a grain of zesty, lively and excitng salt for You! Put me in accord with others who are like that, Lord, so we can raise up excitment in You!