The Right Portion of Food During a 'Storm-Problem'
Mood:
hungry
Now Playing: Umma23
Topic: Acts 27:34, 38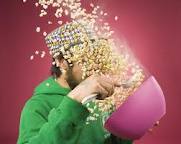 S.
Acts 27:34, 38 (NKJ) "Therefore, I urge you to take nourishment, for this is your survival, since not a hair will fall from the head of any of you."...So when they had eaten enough, they lightened the ship and threw out (to purge out/test) the wheat (what is crushed and kneaded) into the sea.
O.
*Because the men on the ship hadn't eaten in 14 days, they were loosing strength, clear thinking and energy.
+If I don't read God's word for awhile, this is exactly what happens in my spirit. My spirit grows weak, confused and sleepy.
*Paul encouraged them to eat.
+Holy Spirit prompts us to read the Bible to feed our spirit.
*When the men on the ship were satisfied, they threw the rest of the food overboard. This made the ship lighter so the ship could stay afloat during the storm.
+When my spirit is full and satisfied from God's Word, I am to 'lighten the load' of knowledge...throw the rest overboard so as not to have the burden of too much un-needed knowledge which causes confusion. I get exactly what I need for THAT storm/trouble.
A.
Jesus knows just what I need and knows the exact time that I need it. He knows which storm/trouble I am in and exactly the thing that will help me. When I read His Word, while being lead by Holy Spirit, my spirit is fed with the exact amount of knowledge and wisdom that is needed for that exact time; that exact storm. When my spirit is satisfied there and I recognize the answer to the 'storm-problem', all other 'wisdom and knowledge' that isn't needed is 'thrown overboard' in order that my spirit won't be overloaded (which could cause confusion...which is NOT of God) If I need that wisdom and knowledge later, it will be given to me as the answer for a different 'storm-problem'.
It's as if God is saying to me, "Take one step at a time, My child. I will lead you in what you need to know right now, during THIS storm, because I know you. I will not give you too little or too much but just the right amount for this time in your life".
P.
Father, I know that You know me so well that You know exactly what I need for the exact time I need it. In each 'storm-problem'You lead me to the exact help I need. Help me to always trust You in the amount of wisdom and knowledge that is revealed to me. Help me to not try to grab more than I need, for You know the exact amount. I am SO glad You know everything about me! I trust You, Lord!