The Whispers of Jesus
Mood:
amorous
Now Playing: Umma23
Topic: Mark 4:11, 12, 34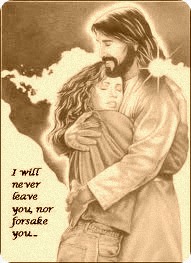 S.Mark 4:11,12,34 (AMP) 11. And He said to them, To you has been entrusted the mystery of the kingdom of God [that is, the secret counsels of God which are hidden from the ungodly]; but for those outside [of our circle] everything becomes a parable,12. In order that they may [indeed] look and look but not see and perceive, and may hear and hear but not grasp and comprehend, lest haply they should turn again, and it [their willful rejection of the truth] should be forgiven them.
34. He did not tell them anything without a parable; but privately to His disciples (those who were peculiarly His own) He explained everything [fully].
O.
What Jesus is saying here is that those that believe in Him and have an intimate realtionship with Him will know the hidden things of the Kingdom of God. But the 'strangers' to God's territory are told only comparrisons/illustrations of God's Territory so as to not to truly understand. This is so that when they do turn from sin and back to God, their ignorance of previous sin would not be counted against them. Not knowing what is and isn't sin makes you innocent and ingnorant of that sin. Jesus was acutally protecting the pre-Believer. His compassion shows!
When Jesus is alone with His pupils/disciples, He then 'unties and loosens' the secrets behind His parables. This is why it's so important to have a close relationship...one on One...with Jesus. It's so we can know His secrets! Here is the place that He explains His Word, His reasons, and what is going on in our individual lives.
A.
The closer I get to Jesus, the more time I spend alone with Him in His Word, worshipping Him, and listening to Him in silence, the more of life's secrets He reveals to me; the 'whys' of my personal life. He shows me answers to hard life questions in His Word. He unties the secrets to my personal life and what I have to do to get through hard times. He shows me, through His Word, why certains things have happened in my past...in order to teach me to grow up. He 'loosens' the truth through His Word. He opens my spiritual eyes while we are alone together! And I always come out of the 'secret place' with My Savior with a sense of peace, wisdom and feeling loved! It's the place where my Jesus whispers in my ear what is the Truth to my personal life with Him.
P.
Thank You, Jesus, that You take the time to loosen and untie the secrets of my life. Thank You that You reveal to me that those secrets are in Your Word. Thank You for Your Wisdom and Your Holy Spirit! Stay close to me always! You make my heart sing, Lord!