Practicing What You Preach
Mood:
quizzical
Now Playing: Umma23
Topic: Acts 18:14, 15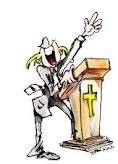 S.Acts 18:14, 15 (NKJ) And when Paul was about to open his mouth, Gallio said to the Jews, "If it were a matter of wrong or wicked crimes, O Jews, there would be reason why I should bear with you. 'But if it is a question of words and names (character) and your own law (regulations), look to it yourselves (Greek; "GAZE BACKWARDS"); for I do not want to be a judge of such matters."
O. The Jews were about to learn a lesson from the governor of Achaia (Greek for 'governor of trouble'). The lesson was to LOOK TO THERESELVES...LOOK BACKWARD to see if they were DOING what they were PREACHING! He was not willing to judge them in right or wrong. They needed to judge themselves, first, by HOW THEY PRACTICED WHAT THEY PREACHED!
A.Am I living out what I say? Do I look backwards at myself to see if I'M living out what I tell others about? Do I judge others without judging myself first? If I am, then I have NO right! Keeping my eyes off others and onto myself when judging should be my way of life. My words, character and God's regulatons should not just be spoken of, they need to be LIVED OUT....by ME!
P.Father, help me to practice what I preach. Help me to live out what I know You want me to be...and in front of others. Help me be true to myself; YOU IN ME!